If you suffer from anxiety or stress, meditation may be an easy fix for your problems. No matter how stressful your day is, meditation can take away all your worries and put you in a state of peace and calm if it's done correctly.
Initially, meditation was practiced so that people could understand the sacred and mystical forces of life. However, that is not the case in this day and age. Meditation has been in practice for over a thousand years, and it has been evolving ever since.
Today, the main reason meditation is practiced is to relieve the body of stress and tension. If your head is full of jumbled thoughts and stressful scenarios, meditation is a sure way to get rid of them and make your mind and body relaxed. On top of making negative thoughts disappear from your mind, meditation has countless other benefits to offer. Meditation allows you to manage your stress levels and increases self-awareness.
Meditation is a common practice and is quite popular all over the world. According to stats, over 14% of adults in the U.S have tried meditation at least once. Moreover, it has been recorded that women tend to practice meditation more than men.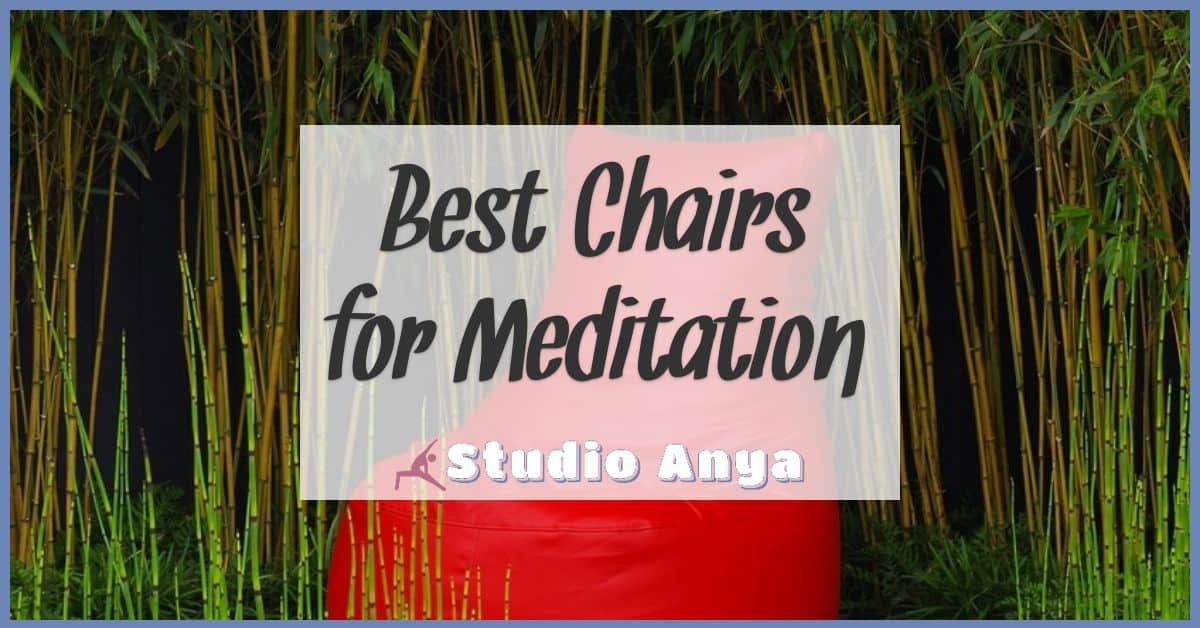 The best part about meditation is that it helps reduce mental fatigue and is also beneficial for our physical well-being. Meditation helps manage symptoms of chronic illnesses like cancer, asthma, high blood pressure, hypersomnia, and insomnia.
Many accessories aid in the meditation process, such as a meditation chair, essential oils, scented candles, etc. Out of all the things, a meditation chair is the most useful thing you can get. The best chairs for meditation are the ones that provide you with the utmost level of comfort.
What do you need for meditation?
There is more than one type of meditation. Depending on which type of meditation you choose to follow, you will need certain things. But there are some key elements of meditation that is a must no matter which type of meditation you choose to practice. Here are a few important features of meditation:
1. Attention
When you meditate, focused attention on meditation alone is of utmost importance. Once your focus is solely on meditating, it will automatically take away all the stress and worries floating about in your head and keep your mind peaceful.
If you find it difficult to focus, pick an object and put all your focus on that particular object. You may even focus on your breathing if it helps you concentrate.
2. Silence
While skilled people can meditate anywhere, when it comes to beginners, silence is the key. A quiet setting is a must for focusing on meditation; that means you'll have to stay away from all noisy objects, including your cell phone.
Ensure that there are no interruptions such as people talking, traffic noise, phone ringing, etc. If you want to benefit from meditation, silence is the way to go.
3. Comfort
Your comfort is extremely important during meditation. You might have seen people in some really difficult positions when they meditate. But keep in mind that you don't have to do what someone else is doing. Meditation can be practiced in any position you feel comfortable in. But if you want to try out different positions, it's best to use chairs for meditation. The best chair for meditation will provide you with the knee and back support you need.
Meditation chairs help in maintaining the correct posture, which is extremely important. An incorrect posture will cause problems for you in the long run.
Why are Meditation Chairs Important?
The chairs for meditation are different from your normal chairs. A meditation chair is an important piece of furniture that will help you stay correctly when meditating.
Knee and back support is extremely important during meditation, and using meditation chairs will provide you the sufficient support. Moreover, you can sit in the correct position without hurting your back, knees, and shoulders.
When you sit in the same position for a long time, your spine is in danger of serious damage. To avoid that from happening, you need to use meditation chairs. Spine injuries can have severe consequences, and if you feel that your back is already starting to hurt because of meditation, that is a sure sign that you need to invest in a good meditation chair.
Sitting in the correct position while staying comfortable are the two key factors for meditating successfully. To fulfill both of these conditions, you need the best chairs for meditation.
X Best Chairs for Meditation
To get the best posture and comfort level, you need the best chairs for meditation. If you're planning on buying a meditation chair anytime soon, it might be difficult for you to find the right chair. We've made a list of our top 6 picks of the best meditation chairs for your ease. Let's take a look:
1. Friends of Meditation Extra Large Relaxing Meditation and Yoga Chair
If comfort is your primary requirement, then this meditation chair is what you need. People who suffer from back problems should use this chair for meditation. Whether you want to sit up straight or cross-legged, this meditation chair is perfect for both positions.
The meditation chair is available in two vibrant colors and has a size of 24×22 inches. Moreover, it also contains 4D foam with a height of 4 inches, making it ergonomic.
The best part is that this chair can be used for different purposes besides meditation. It can be used when working on a laptop, during yoga, or simply to relax. It's a relaxing and comfortable chair, plus it is really easy to maintain. The chair comes with a removable cover that you can wash at any time. Additionally, the foam comes with a 7-year warranty, so if there are any problems with your chair within that period, you can get it fixed without any hassle. What's more, there is a 30-day return policy, if you don't feel satisfied with the product, it can be returned, and you will get a full refund.
2. Master Massage Comfort Plus Wooden Kneeling Chair
This wooden kneeling chair is perfect for use in the office as well as at home for meditation. It provides the utmost comfort with the back and knee support that you need for a correct posture. You can easily adjust the height of the chair manually.
The knee-padded seat has a 2-inch foam cushion which makes it all the more comfortable. The chair's frame is made of beech wood, while the cushion cover is made of durable PVC vinyl upholstering.
The chair comes with wheels at the bottom, making it easy to move and store. Moreover, it comes with a 3-year warranty, so if there's anything wrong with your chair, you can get it fixed immediately. This chair is great for getting rid of a humpback and keeping your spine in the right position. Plus, it helps in relieving neck strain.
3. Friends of Meditation Vipassana Meditation Chair
This is another great meditation chair by Friends of Meditation. This chair targets people who require back support. It's particularly useful for those who want to try out the sukhasana pose. It helps in fixing the posture of your lower back.
The chair can be folded completely, so it's perfectly easy to store. It also comes with an extra cushion that adds flexibility to the chair and helps sit in the correct position. The chair comes with a 7-year warranty, so you don't have to worry about anything broken.
The affordable meditation chair helps in increasing the capacity of sitting and keeps the body still by providing back support. This chair is a sure way of making your meditation sessions relaxing and comfortable.
4. Best Choice Products Multipurpose Adjustable Cushioned Floor Chair Recliner
This multipurpose chair is not just suitable for meditation, but it can also be used for gaming, reading, and lounging. The chair comes with adjustable back support, and you can choose any angle between a straight 90 degrees to a flat 180 degrees. You can use this chair in your living room, bedroom, or even your game room.
The chair's light weight makes it easy to move so you can carry it to any room of your choice. What's more, the chair is also foldable, so it's easy to store. It has a metallic frame with cushioning on top. The chair's cover has a zipper cover that can be removed at any time, and you can wash the covers in a washing machine.
The chair is designed to promote a healthy posture in any activity, be it meditation, watching TV, or simply sitting. The product has a weight capacity of approximately 200 lb and is available in 3 different colors.
5. Bamboo Floor Seat Chair
This bamboo floor seat chair is different from other meditation chairs. It has a low-sitting, so it helps in fixing your posture.
The chair is made of bamboo wood, giving it a classy and stylish look. You can put it anywhere in your house, and it will blend right in. The only drawback is that it comes with a fixed frame, meaning it cannot be folded, so it's not as easy to store or move as other meditation chairs.
But the good thing is that it is comfortable and assists greatly in fixing your posture during meditation. Plus, the covers of the seat are removable so that you can wash them with ease.
The low-sitting meditation chair is available in two different sizes, medium and large.
6. BEIGOO Wood Tatami Zaisu
This Japanese-style tatami chair is legless and is great for practicing meditation. The chair's aesthetics make it a perfect fit with all types of furniture. Moreover, it is a highly comfortable chair that provides the back support you need for meditation.
It's a multipurpose chair so that you can use it for more than just meditation. It's not made of plastic or metal, so you don't have to worry about rusting or polluting the environment. It's perfectly safe for the environment.
It doesn't need to be assembled as it comes with a fixed frame, but that means you can't store it easily. Besides that, there aren't any drawbacks to this meditation chair.
Our Final Thoughts
That's the end of our 6 best chairs for meditation. There are plenty of other options that you can choose from, but if you start with the ones we mentioned, you'll be able to fully benefit from meditation. Regardless of which meditation chair you buy, always remember that it should provide your body with excellent knee and back support.
You can always try out meditation in different positions if a sitting position is causing you discomfort, even with a meditation chair. You can meditate while standing or lying down, but your best option would be to do it while sitting.
Remember that meditation is not something that you can master overnight, and it's not a competition. Meditation is all about relaxing and being in a state of peacefulness. Take small steps every day, and you'll master the art of meditation.
Once you start exploring different styles of meditation, it'll be easier for you to fix your posture and get rid of your anxiety and stress. Initially, your main focus should be on controlling your breathing and clearing your mind of all thoughts. Once you've achieved that, you can start working on fixing your posture and much more.